saigon pho
VIETNAMESE CUISINE
Saigon Pho
Contemporary, casual eatery offering a menu of Vietnamese noodle soups, rice dishes, sandwiches, and Smoothie.
Vietnamese food is a wonderful mix of complementary and contrasting flavors: sour, sweet, salty, and spicy.

Our Dishes are based on traditional Vietnamese favorites which have cooked for many generations; authentic Vietnamese recipes with a contemporary approach, using the best quality and seasonal ingredients.
Saigon Pho is one of the new restaurants to open in Raleigh NC area. We want you to enjoy an authentic experience of Vietnamese food, based on balanced recipes that have been in our culture for many years and now given a contemporary style, using the best quality and seasonal ingredients.
Phone
(919) 803-4048
EMAIL
saigonpho2018@yahoo.com
Location
3310 Capital Blvd.
Raleigh, NC 27604
Hours
mon- THU 10:30AM–9:00PM
fri-sun 10AM–9PM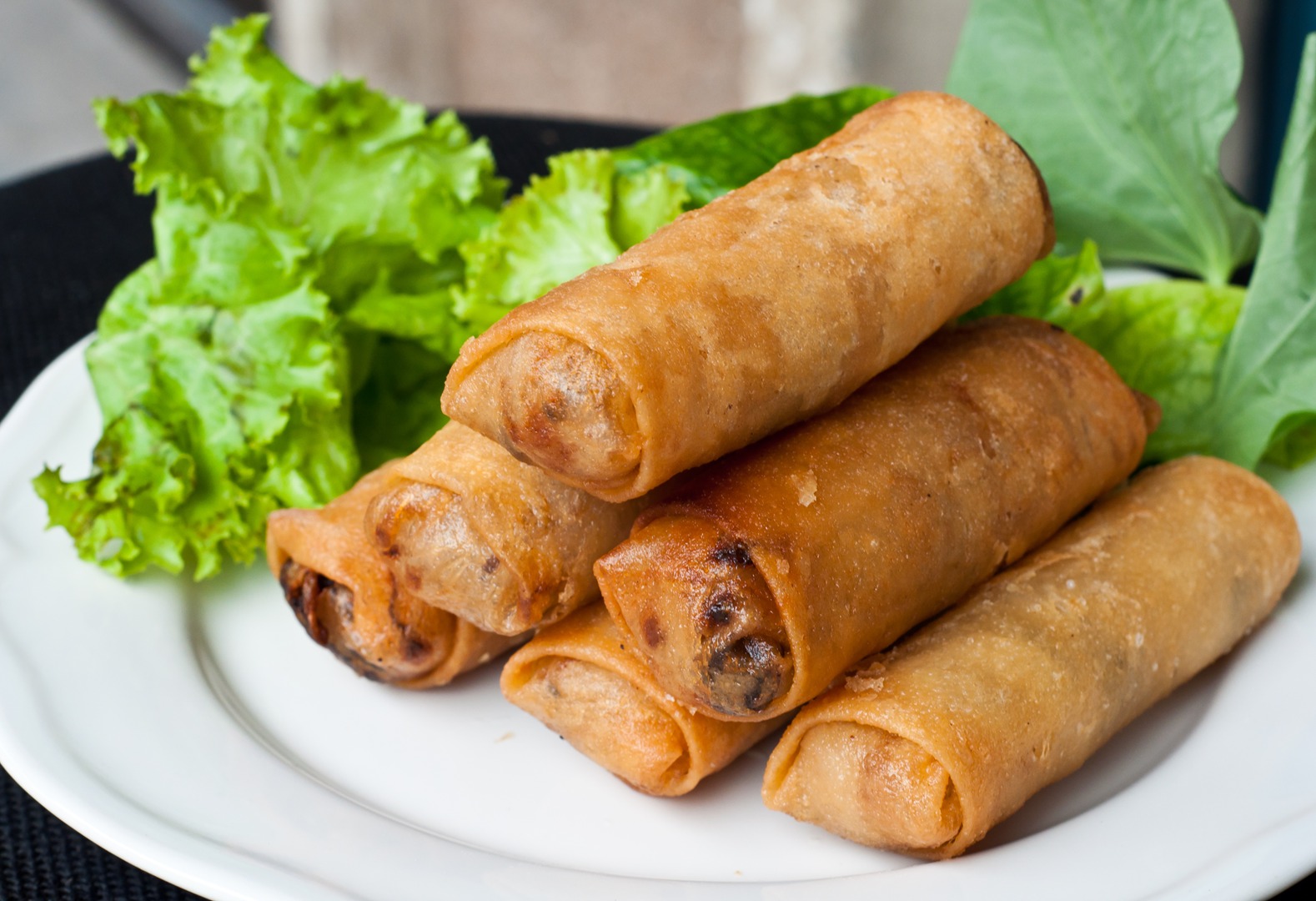 A variety of popular homemade Vietnamese appetizer
$

4.50
A.1 Fried Egg Rolls- Cha Gio (2)
Pork, Carrot, Taro, Onion, Dip in Fish Sauce or Sweet Sauce
$

4.50
A2. Fresh Spring Rolls- Goi Cuon (2)
Vermicelli, Pork, Shrimp, Lettuce, Cilantro, Cucumber, Dip in Peanut Sauce (Shrimps only or Vegetarian available- Co phuc vu goi cuon tom hoac Chay)
$

4.50
A3. Fried Tofu with Peanut Sauce- Dau Hu
Du hu chien gion cham tuong dau phong
$

9.25
A4. Vietnamese Fish Sauce Wings (8)
Dip in Fish Sauce or Sweet Sauce (Canh Ga Chien Nuoc Mam)
$

8.50
A5. Crispy Butter Fried Quails (2)
Chim Cut Chien Bo Gion
$

5.50
A6. Fried Cracker Shrimp Rolls (4)
With Sweet Chilli Sauce (Tom Hoa Tien)
$

5.50
A7. Crispy Crab Rangoon (4)
Hoanh Thanh Cua Chien Gion
A bowl of room temperature Rice Noodles, Lettuce, Cucumber, Bean Sprout, Carrot, Peanut & House Fish Sauce
$

10.50
V1. Crispy Egg Roll (4)- Bun Cha Gio
$

9.99
V2. Grilled Chicken- Bun Ga Nuong
$

9.99
V3. Grill Beef- Bun Bo Nuong
$

10.95
V4. BBQ Shrimps- Bun Tom Nuong
$

9.99
V5. Grilled Pork -Bun Thit Nuong
$

11.95
V6.House Special Combo
(Chicken, Shrimps, Beef- Bun Dac Biet)
$

9.99
V7. Tofu & Vegetable- Bun Dau Hu Chay

A bowl of Beef Seasoned with Vietnamese soup. Includes Rice Noodles, Cilantro, Onion, and Scallion. Special Combo with a thin slice of Steak, Well Done Brisket & Flank, Beef Ball, Tendon & Tripe.
$

9.99(s) $10.99(m) $12.99(l)
P1. *House Special
Pho Dac Biet
$
9.99(s) $10.99(m) $12.99(l)
$

8.99(s) $9.99(m) $11.99(l)
P2. *Eye Round Beef
Pho Tai
$
8.99(s) $9.99(m) $11.99(l)
$

8.99(s) $9.99(m) $11.99(l)
P3. *Eye Round & Beef Ball
Pho Tai, Bo Vien
$
8.99(s) $9.99(m) $11.99(l)
$

8.99(s) $9.99(m) $11.99(l)
P4. *Eye Round, Brisket
Pho Tai, Bo Vien
$
8.99(s) $9.99(m) $11.99(l)
$

8.99(s) $9.99(m) $11.99(l)
P5. *Eye Round, Brisket, Flank
Pho Tai Chin, Nam
$
8.99(s) $9.99(m) $11.99(l)
$

8.99(s) $9.99(m) $11.99(l)
P6. Well-Done Brisket
Pho Chin Gau
$
8.99(s) $9.99(m) $11.99(l)
$

8.99(s) $9.99(m) $11.99(l)
P7. Beef Ball
Pho Bo Vien
$
8.99(s) $9.99(m) $11.99(l)
$

8.99(s) $9.99(m) $11.99(l)
P8. *Eye Round & Tripe
Pho Tai Sach
$
8.99(s) $9.99(m) $11.99(l)
$

8.99(s) $9.99(m) $11.99(l)
P9. Well-Done Flank, Brisket, Tendon, & Tripe
Pho Chin, Nam, Gau, Gan, Sach
$
8.99(s) $9.99(m) $11.99(l)
$

8.99(s) $9.99(m) $11.99(l)
P10. Chicken
Pho Ga
$
8.99(s) $9.99(m) $11.99(l)
$

8.99(s) $9.99(m) $11.99(l)
P11.*Shrimp
Pho Tom
$
8.99(s) $9.99(m) $11.99(l)
$

9.99(s) $10.99(m) $12.99(l)
P12. *Seafood
Pho Hai San
$
9.99(s) $10.99(m) $12.99(l)
$

8.99(s) $9.99(m) $11.99(l)
P13. Tofu & Mixed Vegetable
Pho Chay (Broccoli, Carrot, Onion)
$
8.99(s) $9.99(m) $11.99(l)
Served with Lettuce, Tomato, Cucumber, Scallions, Carrot Pickle & House Fish Sauce
$

10.99
R1. Grilled Pork Chop & Egg
Com Suon Nuong Trung Ga
$

10.50
R2. Grilled Pork
Com Thit Nuong
$

10.50
R3. Grilled Chicken
Com Ga Nuong
$

10.50
R4. Grilled Beef
Com Bo Nuong
$

11.99
R5. Grilled Shrimp
Com Tom Nuong
$

10.99
R6. Fried Rice
Com Chien (Chicken or Beef or Shrimps o House Special)
$

12.99
S4. Seafood-Do Bien (Squid, Shrimp, Crab Meat, Fish Cake)
$

11.00
S5. Tofu & Vegetable-Dau Hu & Rau Xao
$

11.99
S6. Pad Thai Chicken and Shrimps
$

11.50
S7. Shaking Beef-Bo Luc Lac
Onion, Tomato, Salad, and Cucumber
$

8.99(s) $9.99(m) 11.99(l)
H.1 Hu Tiu Nam Vang
(Rice Noodle Soup with Shrimp, Fish Cakes, Pork, Ground Pork, & Chicken)
$
8.99(s) $9.99(m) 11.99(l)
$

8.99(s) $9.99(m) 11.99(l)
H.2 Combination - Mi Thap Cam
(Thick or Thin Egg Noodle, with Shrimps, Fish Cakes, Pork, Ground Pork & Chicken)
$
8.99(s) $9.99(m) 11.99(l)
$

8.99(s) $9.99(m) 11.99(l)
H.3 Shrimp & Chicken - Mi Ga Tom
(Thin Egg Noodle, Shrimps & Chicken)
$
8.99(s) $9.99(m) 11.99(l)
$

9.99(s) $10.99(m) 12.99(l)
H.4 Seafood - Mi Hai San
(Thick or Thin Egg Noodle, Shrimps & Chicken)
$
9.99(s) $10.99(m) 12.99(l)
$

8.99(s) $9.99(m) 11.99(l)
H.5 Vegetable - Mi Chay
(Thin Egg Noodle with Broccoli, Carrot, Onion, Mushroom, Celery)
$
8.99(s) $9.99(m) 11.99(l)
*Consuming raw or uncooked meats, poultry, seafood, shellfish or eggs may increase your risk of foodborne illness. Especially if you have certain medical conditions, please be aware that our restaurant uses all ingredients that contain all the major FDA allergens
(Peanuts, Tree Nut, Eggs, Shellfish, Milk, Soy, Wheat)

*no returns on modified items
*no returns for personal dishes
$

3.75
B1. Thai Iced Tea
Tra Thai
$

1.75
B2. Iced Tea
Tra Da
$

2.50
B3. Hot Jasmine Green Tea (Pot)
Tra Nong
$

3.99
B4. Vietnamese Coffee with Condensed Milk with Ice
Ca Phe Sua Da
$

3.50
B5. Coconut Juice
Nuoc Dua
$

5.25
B6. Saigon Hot Coffee
Ca Phe Nong
$

4.00
B7. Fresh Squeezed Lemonade
Chanh Vat
$

2.00
B8. Soy Bean Milk-Sua
Dau Nanh
Requested Tapioca Available
$

4.50
11. Fresh Avocado Smoothie
Sinh To Bo
$

4.50
12.Fresh Mango Smoothie
Sinh To Xoai
$

4.50
13.Fresh Strawberry Smoothie
Sinh To Dau
$

4.50
14.Fresh Watermelon Smoothie
Sinh To Hau
$

5.00
15.Sugar Cane
Nuoc Mia (Seasonal)
$

4.00
B.B.Q. Sandwich (pork or Beef or Chicken)
(Banh Mi Thit Nuong: Ga or Bo or Heo)
$

4.00
Combination-Banh Mi Dac Biet
$

2.00
SIDE ORDERS
Rice (dining in)- Chen Com Trang
$

2.00
Rice To Go- Hop Com Trang (Small)
$

1.50
Pan Fried Egg(1)-Trung Chien (1 Cai)
$

2.00
Fried Egg Roll (1)-Cha Gio (1 Cai)
$

3.50
Pork-Chop Suon Cot Let 1 Mieng
$

2.00
Beef Meat Ball(4) Bo Vien (4 Vien)
$

4.00
Extra Beef, pork or Chicken-Them Thit Bo, Heo, hoac Ga
$

3.00
Extra Noodle- Them Banh Pho hoac Mi
$

1.00
Extra Beef or Chicken Broth
Them Soup Bo hoac Ga
$

4.00
Extra Rare Steak-Them Bo Tai
MAKE A RESERVATION BY PHONE:
(919) 803-4048
FROM 10:30 AM – 8 PM DAILY FOR ORDER AND RESERVATIONS